Experience ALL 6 of our escape scenarios.

Perfect for Group Date Night!
Exciting Escape Room Scenarios in Albuquerque, NM
New Mexico Escape Room offers six different escape room scenarios designed to fully immerse players into a comprehensive story in a realistic setting. Our high-quality scenarios give players an escape room experience like no other!
Our Thrilling Scenarios
Each scenario is designed with different levels of difficulty, so we have something for players of all skill levels.
What to Expect
Many people feel anxious before their visit because they don't know what to expect. Don't worry—an escape room isn't frightening, but it's certainly suspenseful. The rooms aren't tiny, so you won't feel claustrophobic, but you will share the space with teammates. While you need not be an athlete, you'll need to move around the room searching for clues. There will be noise. You'll be bonding with teammates, laughing, and maybe even yelling, depending on how excited or frustrated you get! You'll probably experience a range of emotions, from confusion to stress to excitement. But at the end of the game, whether you've escaped in 60 minutes or not, you'll feel a sense of achievement that you and your team solved the puzzle. Visit our FAQ to learn more.
All bookings at NM Escape Room are PRIVATE sessions. Additional participants can be added to the session on site, at the standard rate, as long as the game's participant maximum is not exceeded.
All sales are final - No refunds will be issued. Please see our cancellation policy in the FAQ section for more information.
Call New Mexico Escape Room at 505-289-1002 or book online now.
The Cabin 2.0:
Simon Says, "Die"
Catch a Serial Killer Adventure

Serial Killer Cabin, Murder Mystery, Puzzle Room
Established April 2023
---
Our Newest Room - Available to book now!
Synopsis:
Four years ago, you and your team of FBI investigators caught the notorious "Simon Says" killer, Sam Sisnoy. He is now in prison, but new victims are turning up. You are back at his cabin to find clues and stop the killer before he strikes again.
Sisnoy is in prison, but is he working with someone? Or is a copycat on the loose? You need to find out before it's too late.
Can you stop Simon Says before he claims another victim?
Simon Says is back.
DIFFICULTY LEVEL: 7.5 / 10
---
Super Secret
Save Captain Secret - Save the world!

Super Heroes, Super Powers, Puzzle Room
Synopsis:
For decades, our noble hero, Captain Secret, has fought off villainous foes and monsters to keep the streets of Albuquerque safe. But recently, his luck has run out as his worst nemesis yet has seized the upper hand. Captain Secret has disappeared, and he needs YOUR help! Without his protection it is only a matter of time before the city falls into ruin. But there is hope! Thankfully you've located and managed to breach our hero's secret lair. All you have to do now is track down the evil doer, and save Captain Secret from his clutches. You must hurry! The Captain's powers are fading fast, and it's only a matter of time before he is lost for good and evil will fall upon our great city! You have 1 hour.
DIFFICULTY LEVEL: 6.5 / 10
---
Blackwell Manor
Can you survive one hour inside this haunted manor?

Century Old Murder Mystery, Murder Manor, Town Legend, Mayhem, Haunted, Ghosts, Thrilling, Fear, Escape the Ghosts, Abandoned, Intense, Frightful, Scary
---
Synopsis: The old Blackwell Manor has sat vacant for over a century upon a lonely hill just outside of town. Legend has it, the once grand manor is still inhabited by its former occupants, the Blackwell Family. It's rumored that lights are often seen coming from the house even though there's no electricity. No one from town dares to step foot within its crumbling frame. If you listen closely enough on a stormy night, you can hear the blood-curdling screams coming from the house's direction. You have been challenged to spend just one hour locked inside the manor. The bragging rights alone are worth it. There's no such thing as ghosts, right?
WARNING: Horror stories are spawned from the darker side of humanity and the paranormal, hence the very nature of the horror genre. The back story of this game is purely fictitious, and for the purpose of entertainment. The subject matter in this game is of a macabre nature. We don't exclude children, but rather rely on parental discretion when booking for kids under the age of 12. ***Any children under the age of 12 must be accompanied by an adult. Please be advised, much like other haunted attractions, elements such as flashing lights and fog are used to create the atmosphere of the game. Enter at your own risk.
---
Bombshell
A Suspenseful Race For Survival

Criminal Syndicates, Suspense & Intensity, Escape the Room
---
Synopsis: For decades, the city's greatest criminal syndicates have answered to one man, Vittorio Bosargio. He is known as the Don of Dons, holding power over multiple criminal organizations, but lately his judgement has been questionable and unstable. He is slowly slipping into madness. You've been summoned, along with other organizational heads, to meet in a secret location and discuss the fate of the highly respected, but faltering Don. Unfortunately, your betrayal doesn't go unnoticed. Someone has double crossed you, and now it's a race against the clock to survive. Don't end up 'sleepin' wit' the fishes.' Can you outsmart Don Vittorio Bosargio?
CAUTION: This game requires some physicality where players may have to kneel into low positions, crouch, and climb up and down steps. There are also uneven and moving floors, and small spaces. Please feel free to contact us directly with specific questions regarding the physical aspect of this game.
This game has been designed for 4-6 participants. This number is not negotiable and in place for customer safety.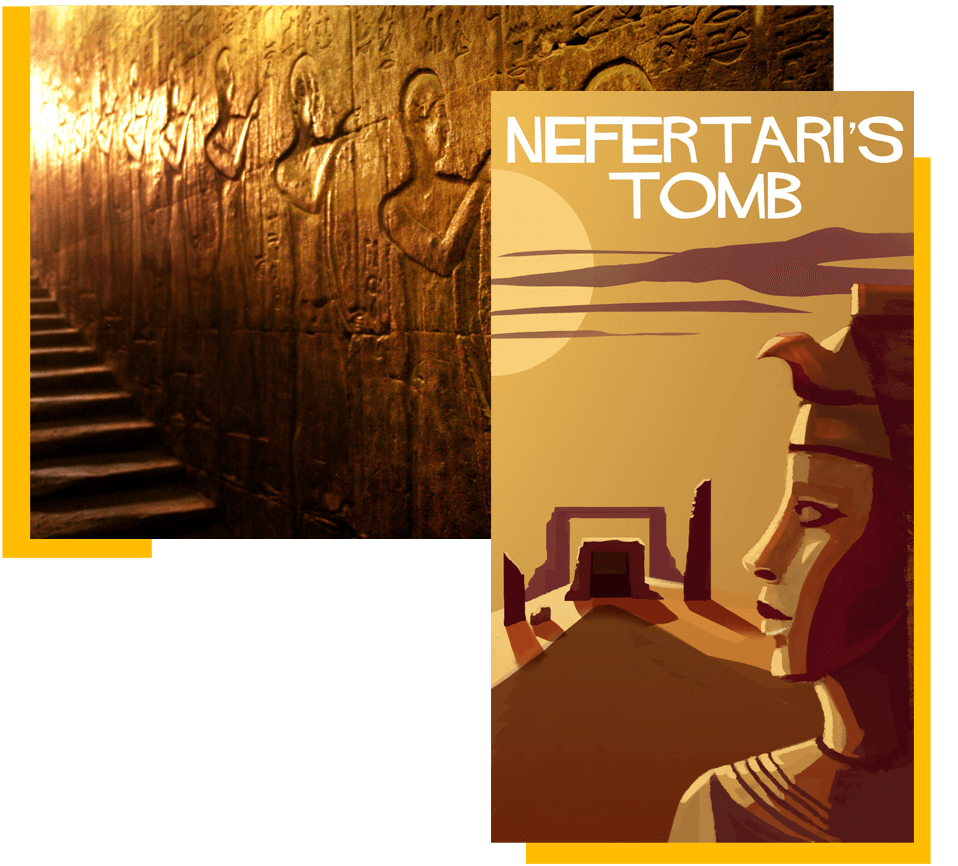 ---
Nefertari's Tomb
Loot a Tomb Adventure

Egyptian Tomb, Robbery, Puzzle Room
---
Synopsis: You are tomb robbers serving a criminal organization, led by the mysterious Arnold von Dunkelheit. For years, Dunkelheit has suspected that the supposed tomb of one of Egypt's greatest queens - Queen Nefertari - was not actually her final resting place. Known as Site QV66, it was rumored to hold the greatest treasures of Ramesses II, and said to contain the Golden Hall - a magical chamber where the dead could be resurrected. But when the tomb was opened in 1904 the treasures were all missing, and there was no evidence of any secrets to eternal life.

The situation didn't add up, and after decades of searching, Dunkelheit's group has finally located what may be the real tomb of Nefertari. Armed with a list of long-lost treasures, you must dynamite your way into the tomb, steal everything they can find, and escape before the local authorities and meddling hero-archaeologists arrive. Authorities have been tracking your group, and will arrive in 60 minutes. If Dunkelheit can't have all the treasures, no one can - once the mission is finished, you must blow up the tomb to bury your tracks and make your escape.
Note: Nefertari's Tomb is an advanced escape game that is geared at an experienced audience. If your group hasn't participated in multiple escape scenarios, we suggest that you consider one of our other offerings before you venture into Nefertari's Tomb
---
Duel at Dusk
A Suspenseful Race For Survival

Western Duel, Mystery & Suspense, Puzzle Room
Established September 2017
---
Synopsis:
After a little too much fun the night prior at the local saloon, you vaguely remember that you have been challenged to a duel by a mysterious stranger. The duel will take place today at dusk. Unfortunately, you have misplaced your lucky gun. You must re-trace your steps from the prior night's events and return to the saloon where the bartender has agreed to give you and your posse one hour to retrieve your lost gun. Find it, and luck will be on your side as dusk approaches. Don't find it, you better turn tail and run out of town!
DIFFICULTY LEVEL: 5.5 / 10