Experience ALL 4 of our escape scenarios.

Perfect for Date Night!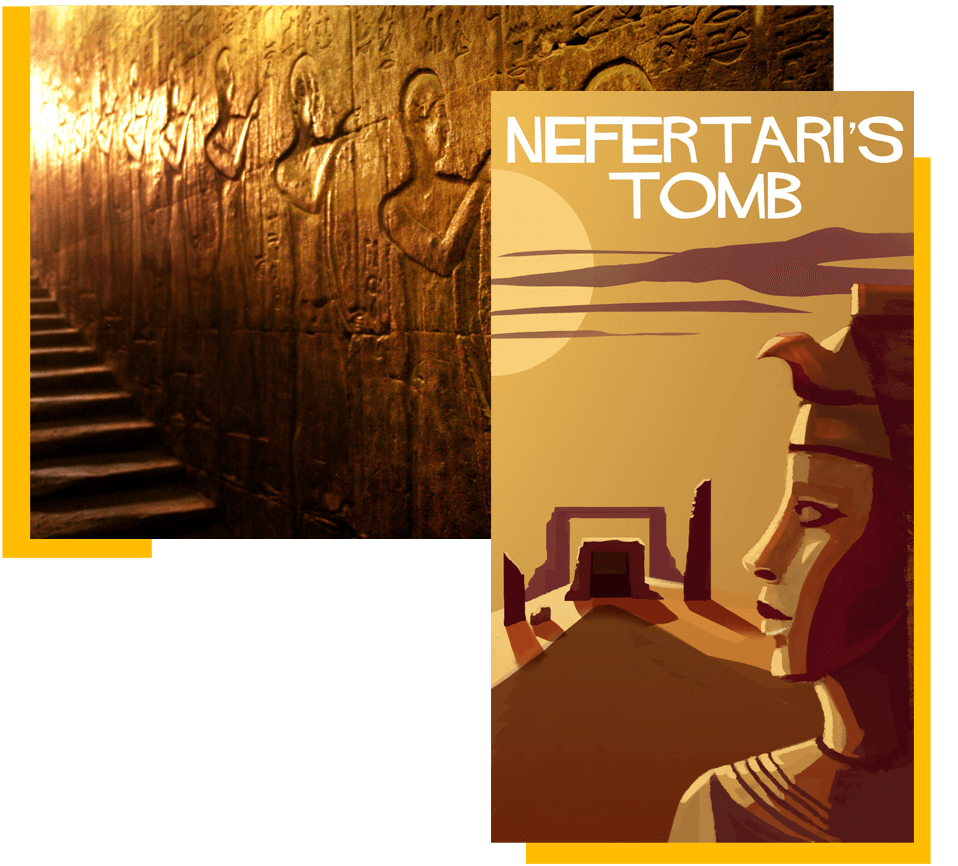 Synopsis: You are tomb robbers serving a criminal organization, led by the mysterious Arnold von Dunkelheit. For years, Dunkelheit has suspected that the supposed tomb of one of Egypt's greatest queens - Queen Nefertari - was not actually her final resting place. Known as Site QV66, it was rumored to hold the greatest treasures of Ramesses II, and said to contain the Golden Hall - a magical chamber where the dead could be resurrected. But when the tomb was opened in 1904 the treasures were all missing, and there was no evidence of any secrets to eternal life.

The situation didn't add up, and after decades of searching, Dunkelheit's group has finally located what may be the real tomb of Nefertari. Armed with a list of long-lost treasures, you must dynamite your way into the tomb, steal everything they can find, and escape before the local authorities and meddling hero-archaeologists arrive. Authorities have been tracking your group, and will arrive in 60 minutes. If Dunkelheit can't have all the treasures, no one can - once the mission is finished, you must blow up the tomb to bury your tracks and make your escape.
Note: Nefertari's Tomb is an advanced escape game that is geared at an experienced audience. If your group hasn't participated in multiple escape scenarios, we suggest that you consider one of our other offerings before you venture into Nefertari's Tomb
---
Duel at Dusk
A Suspenseful Race For Survival

Western Duel, Mystery & Suspense, Puzzle Room
---
Synopsis: After a little too much fun the night prior at the local saloon, you vaguely remember that you have been challenged to a duel by a mysterious stranger. The duel will take place today at dusk. Unfortunately, you have misplaced your gun and other items. You must re-trace your steps from the prior night's events and return to the saloon where the bartender has agreed to give you and your posse one hour to retrieve your lost items which include: your pistol, your lucky rabbit's foot, and your courage. You also are hoping this will trigger you to recall the name of the person you'll be dueling. Exit the saloon with these trusted, lucky items and the name of your dueling partner within the hour, and there's no way you'll lose. Don't find them, and you may as well leave town!
---
The Cabin
Catch a Serial Killer Adventure

Serial Killer Cabin, Murder Mystery, Puzzle Room
---
Synopsis: You are the lead detective on the murder case you have just received a tip that has led you to the secluded, hunting cabin that the suspected serial killer is said to use as his hideaway. You don't have enough evidence to get a warrant, you don't even know the true identity of the killer, and time is of the essence. You must get to the cabin, use the clues to lead you to the true identity of the killer, and escape before the killer returns. You only have 60 minutes…will you and your team be able to get in, accomplish the task & get out in time?
Have what it takes to catch a serial killer? Can you and your team meet the challenge of finding the clues & murder weapon, and escaping in time without being caught by the killer himself? This room offers a more advanced, live escape scenario; it should be attempted only if you are brave or have had experience with escape games before.