Ultimately, it really depends on the kiddo, their maturity and level of focus, how many kids you plan to have in your group, what experience you all want to have, and how much energy you are willing to put forth to keep them engaged while solving the puzzles at hand. Regardless, all are welcome at NM Escape Room.
Ages 0 - 6 : In general at NM Escape Room, we do not charge for kiddos ages 6 and under as there is not too much that they can contribute with regards to solving puzzles, but you still can have them help with simple tasks, like pressing buttons or talking through puzzles and what you see. Do keep in mind that for this younger age range, it may require more patience and involvement on your end for managing your kiddos, taking away your mental energies from working through the room itself. If this is something you feel that you cannot manage, perhaps consider bringing on another adult to help or bringing the kids when they are older.
Ages 7 - 12 : We do require at least one adult participating in the scenario alongside the kids to help guide them and keep them focused. This age range is quite excitable and loves to help, but they do benefit from adult leadership. Be prepared to have more patience and willingness to help the kids come up with their own solutions, even if you may think it's wrong. 
Ages 13+ : This tends to be the age range that can handle a wider variety of puzzles and tasks and handle most if not all themes out there. Some groups around this age may prefer to go through an escape room on their own (for us, they can so long as an adult remains on the premises unless they drive themselves), but escape rooms are a great chance for you and your teens to work together and strengthen your bond.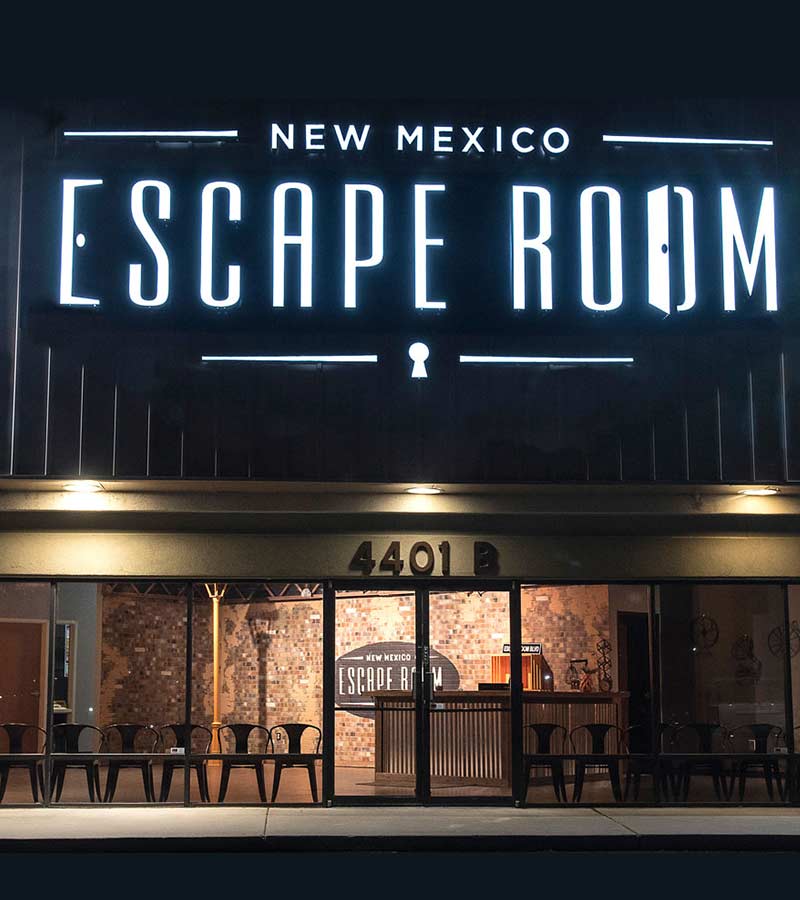 ---
Which scenario(s) should we play?
Here at NM Escape Room, we provide an array of themes and difficulty levels among our six scenarios. Some are better suited for younger players than others. When determining which of our scenarios to choose, take into consideration their interests, how much of a challenge your group wants, how scary/intense a scenario is, your group size and age ranges, etc. You can view all of our scenarios here reading descriptions and seeing photos from inside. 
An important thing to be mindful of is how your child handles theatrical fear; don't overestimate their threshold for scarier concepts and themes. Maybe they love horror, but on the other hand, maybe they're easily spooked. Either way, keep this in mind when thinking about a horror themed scenario like the Cabin and Blackwell Manor. These two scenarios, however, are fairly popular among teens, but are more intense and not as enjoyable for grade school aged kids and little ones.
Some of the scenarios we offer are more engaging for a broader age range with the themes and puzzle styles. Duel at Dusk is a great scenario for not only first time players, but multi-generational groups! While it's on the beginner's side, by no means is it an "easy" scenario; however, there are some puzzles in this scenario that kids tend to discover the solutions for faster than adults do at times. Duel at Dusk has a handful of cooperative elements and puzzles, which are great to get everyone involved especially if you have younger kids and a wider age range of players. Super Secret is a thematically exciting scenario for all ages; it is an intermediate level scenario with some tougher puzzles, but it does also have some cooperative elements to get those kids working together with you. Kiddos (and adults!) love meeting J.A.R.F.R.E.D. in this scenario!
Other scenarios we have are more challenging with puzzles and thematically a bit more mature. Bombshell is a great scenario to come with older kids (12+) as it's a challenging mafia/bomb defusal situation with more physical tasks to complete; as such, it might not be as engaging for younger kids. Nefertari's Tomb is our toughest scenario and there are a lot of puzzles and tasks to complete in this advanced player Egyptian tomb. It may be better to come with older kids, but with the right organization and cooperation, this room could be good for groups with a wider age range up for a hearty challenge.
---
Escape rooms can be a great opportunity to connect with the kids in your life and help them grow with their confidence and critical thinking. With the right mindset and prep work, you can easily incorporate kids in your puzzling endeavors, allowing for everyone to escape from the stressors of the real world and immerse yourselves in a thrilling experience!